Welcome to Contech Ltd.
Contech Ltd. is a multi-mode engineering firm and the distributor of Komatsu Ltd., Japan for Bangladesh market. Contech Ltd. is also a promoter member of Japan Bangladesh Chamber of Commerce & Industry, JBCCI.
This firm was established to do the consultation and implementation of mass transit systems in Dhaka city for the first time in Bangladesh with the help of private sector's participation along with the requested logistics of Bangladesh Army.
Contech Ltd. for the first time in Bangladesh arranged a press conference demanding the establishment of underground metro rail in Dhaka city on 6th May 2002. Thereafter participated in an international tender called by the Ministry of Communication/Bangladesh Railway for implementing metro rail network in Dhaka city and became the lowest bidder in February 2003.
The first underground metro rail network in Dhaka city was designed by the Managing Director of Contech Ltd., Engr. Md. Masud Reza which was duly passed by Private Infrastructure Committee (PICOM) in 2006, Cabinet Committee on Economic Affairs (CCEA) in 2008 and subsequently Board of Investment (BOI) published the gazette notification in this regard in February 2008. Finally the firm was solely declared prequalified to do the metro rail work in Dhaka city by the Ministry of Communication, Government of Bangladesh. The firm is now awaiting the LOI of the metro rail corridors.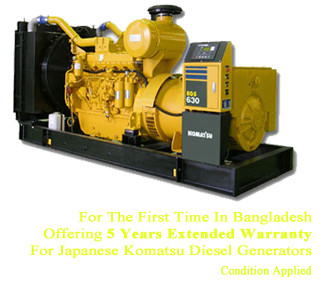 Komatsu is a 92 years old Japanese company and manufacturing world class Komatsu Diesel Engines which are widely being used in world famous Komatsu construction equipment, Komatsu mining equipment, Komatsu locomotive and marine engines, Komatsu forklifts and Komatsu Diesel generators along with other Komatsu equipment.
Komatsu has achieved ISO 9001, ISO 14001, Japan Quality Management Award, Demings' Award etc. long time ago. All Komatsu diesel engines conform to the environmental parameters of Japan, USA, Europe and other countries.
All our Komatsu diesel engines are manufactured in Oyama plant, Japan where the Komatsu diesel generators are also assembled. We do not have any engine manufacturing plant outside Japan and all our Komatsu diesel generators are directly shipped from Yokohama Port, Japan.